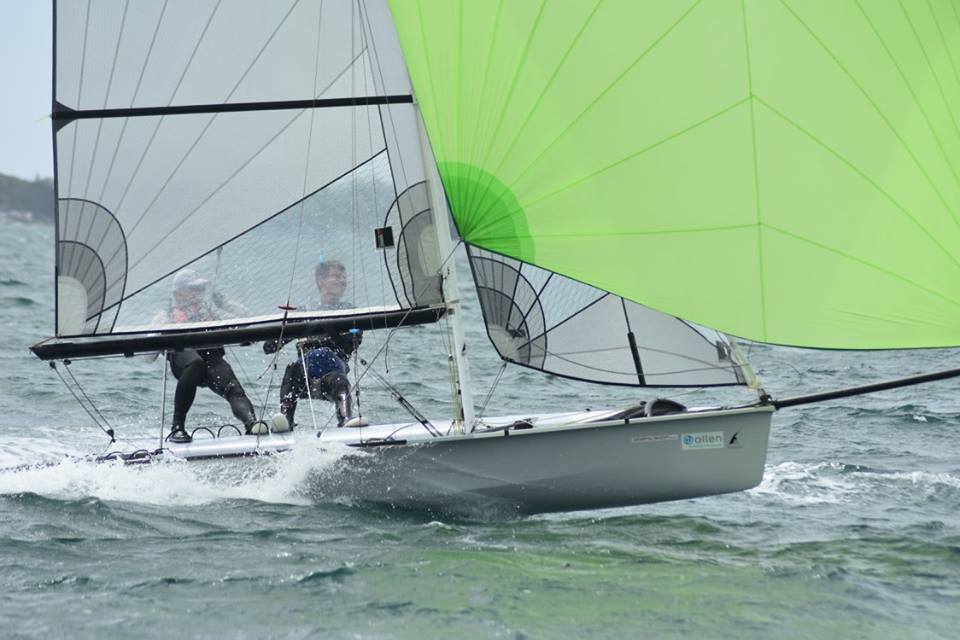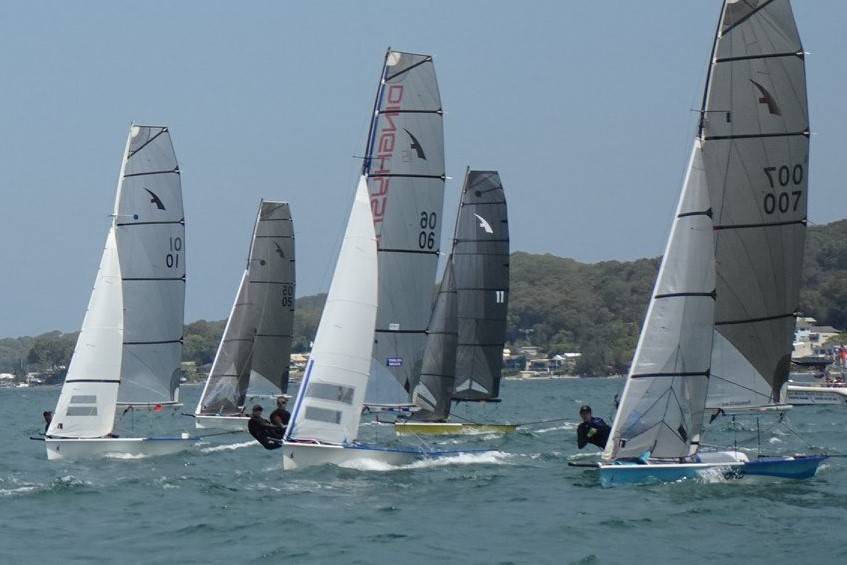 Designed in Melbourne by Jim Scott of Formula Sailcraft in 2002, the Formula Fifteen is a high performance one design skiff sailed by a crew of two, both on trapeze, requiring a combined crew weight of between 130 and 170 kg for optimum performance. The Formula fifteen has contemporary skiff features such as self-tacking jib and masthead asymmetric spinnaker. The Yachting Victoria Yardstick is 92.
The hull is Vacuum Infused from using Vinylester resin and woven E-Glass with a foam sandwich core. Internally, there is a substantial grid of foam sandwich frames and webs which keep the entire structure very stiff and strong. Carbon fibre is used for added strength and stiffness in load areas. The finish is polyester gelcoat with sprayed polyurethane non-skid areas. The weight of the complete hull with all fixed fittings is 79 kilograms. The foils are moulded carbon fibre / foam sandwich finished in polyester gelcoat.
The rig is double spreader carbon fibre with standing rigging adjustable on shore only. Sails can be made by the sailmaker of your choice to fairly rigid class rules.

On the sailing side, the Formula Fifteen is well balanced and rewarding to sail in all wind conditions, tacking and gybing easily and giving an exhilarating ride downwind under spinnaker without the tendency to cartwheel in strong winds and big waves. The self-draining cockpit is uncluttered and comfortable with enough depth to suit even the largest sailors whilst the relatively high freeboard is well suited to open water sailing. The boat rights easily with only one on the centreboard after a capsize and drains immediately through the open transom.
The main original design criteria were to create a boat that would be exciting to sail while at the same time being affordable, strong and relatively low maintenance. This has been achieved with a fully optimised, one design hull shape and strict rule restrictions on the rig. No need to be constantly updating your boat to stay competitive.
The Formula Fifteen Concept is all about fast, fun close racing on the water with less time spent in the workshop.

For more information email
formula15@bigpond.com